POKERSTARS LAUNCHES NEW ONLINE "WIN THE BUTTON" TOURNAMENTS
Popular poker format now exclusively available at PokerStars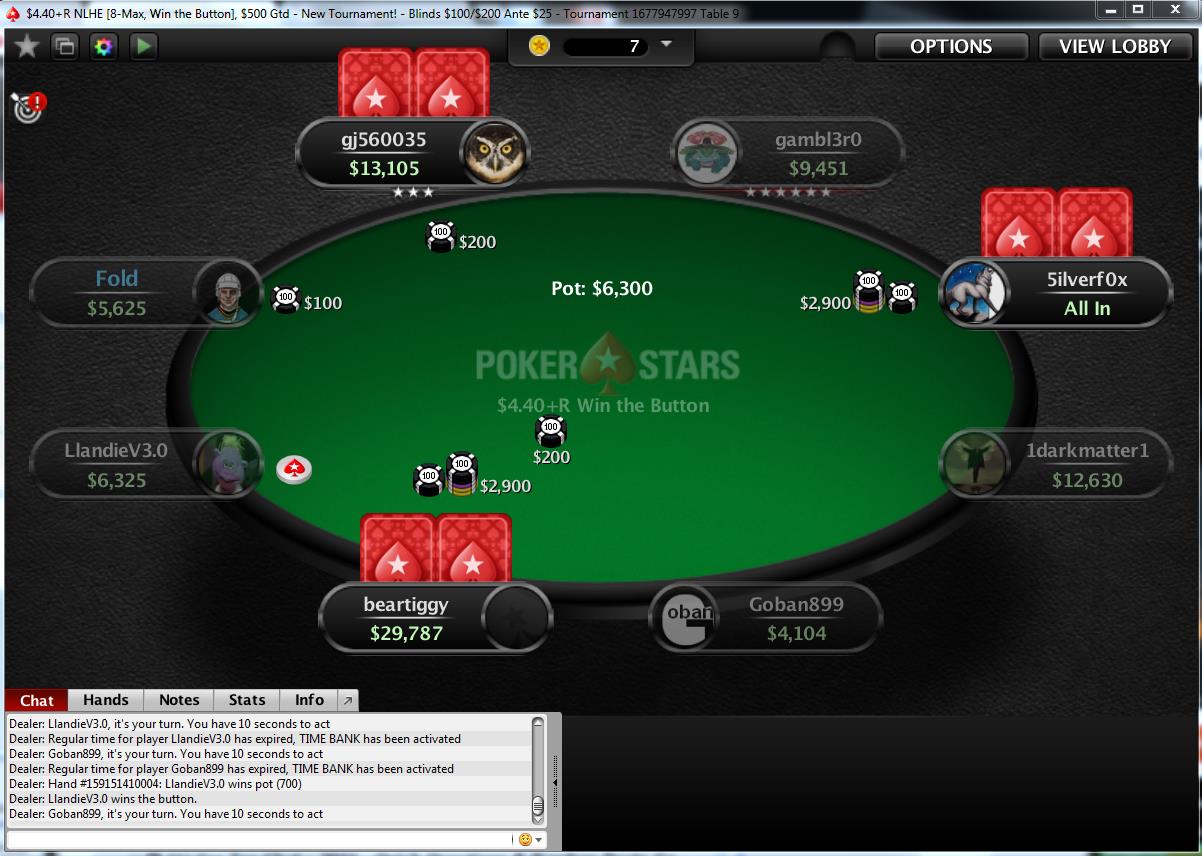 ONCHAN, Isle of Man – September 27, 2016 – "Win The Button" tournaments have today been added to the daily tournament schedule of the world's largest poker site, PokerStars, an Amaya Inc. (Nasdaq: AYA; TSX: AYA) brand.
The "Win the Button" format of No-Limit Hold'em, which has proved hugely popular at PokerStars sponsored live events, rewards the winner of each hand with the dealer button for the next round, a large advantage that providing an added strategic element to each and every hand. In the case of a split pot, the button moves to the winning player closest to the left of the existing button. The player on the button gets to act last, which is a major benefit at the poker table.
This format was played in event 59 of the World Championship of Online Poker (WCOOP) and was hugely popular. The tournament saw 'sousinha23' from Hungary win $104,284.57 from a $707,400 total prize pool. Find the tournament report at the PokerStars Blog here.
There will be 11 daily "Win The Button" tournaments with buy-ins ranging from $2.20 to $162. In addition, there will be two weekly 'majors' held on Saturdays; one $55 buy-in with a $25,000 guarantee and the 'Mini Major' with a buy-in of $5.50 with a $5,000 guarantee.
Team PokerStars Pro Jason Somerville who trialled the format on his popular Run It Up Twitch channel said, "I love the interesting twist of Win the Button tournaments. I'm very much looking forward to competing in these tournaments more regularly. It's awesome to see PokerStars continue to innovate and develop new fun-oriented tournament variants like Win the Button."
Severin Rasset, Director of Poker Innovation and Operations at PokerStars said "We are proud to continue to deliver exciting & innovative games, the largest variety of tournaments anywhere in the world and to be the home of online poker."
DAILY SCHEDULE
02:10 - $3.30 Re-Entry $750 Gtd
03:30 $4.40 8-Max R+A $500 Gtd
07:10 - $5.50 $1.5K Gtd
09:10 - $55 $4K Gtd
11:15 - $3.30 $2K Gtd
14:00 - $162 Ultra Deep $5K Gtd
14:10 - $3.30 $2K Gtd
16:15 - $11 $3.5K Gtd
19:00 - $11 R+A $1.5K Gtd
21:15 - $2.20 Re-Entry $1K Gtd
23:15 - $33 Re-Entry $2K Gtd
All times listed above are in Eastern Time.
For further information, please contact: press@pokerstars.com
About PokerStars
PokerStars operates the world's most popular online poker sites, serving the global poker community. Since it launched in 2001, PokerStars has become the first choice of players all over the world, with more daily tournaments than anywhere else and with the best online security. More than 155 billion hands have been dealt on PokerStars, which is more than any other site.
PokerStars.com and PokerStars.eu operate globally under licenses from the Isle of Man and Malta governments, respectively. PokerStars also holds local licenses or approvals to offer services to players in many jurisdictions, including Italy, France, Estonia, Belgium, Denmark, Spain, Bulgaria, Greece, United Kingdom, Schleswig-Holstein in Germany, Ireland, Romania and New Jersey in the United States of America.
PokerStars is the flagship brand of Rational Group, which operates gaming-related businesses and brands, including PokerStars, Full Tilt, StarsDraft, BetStars, PokerStars Casino and the PokerStars Championship and PokerStars Festival live poker tour brands (incorporating the European Poker Tour, PokerStars Caribbean Adventure, Latin American Poker Tour and the Asia Pacific Poker Tour). In 2012, 2013 and 2014, Rational Group companies in the UK and Isle of Man was recognised as one of the top 25 best places to work by the Great Place to Work Institute's Best Workplaces – Large category ranking. Rational Group entities in Costa Rica and Dublin also achieved the same accolade in their respective local rankings in 2014. PokerStars is ultimately owned by Amaya Inc. (Nasdaq: AYA; TSX: AYA).
Play responsibly! For more information on responsible gaming please visit our website at http://www.pokerstars.com/about/responsible-gaming
Back to Brand News