BETSTARS ADDING 348 NEW US SPORTS MARKETS
NFL, MLB and NCAA pre-live and in-play markets supercharged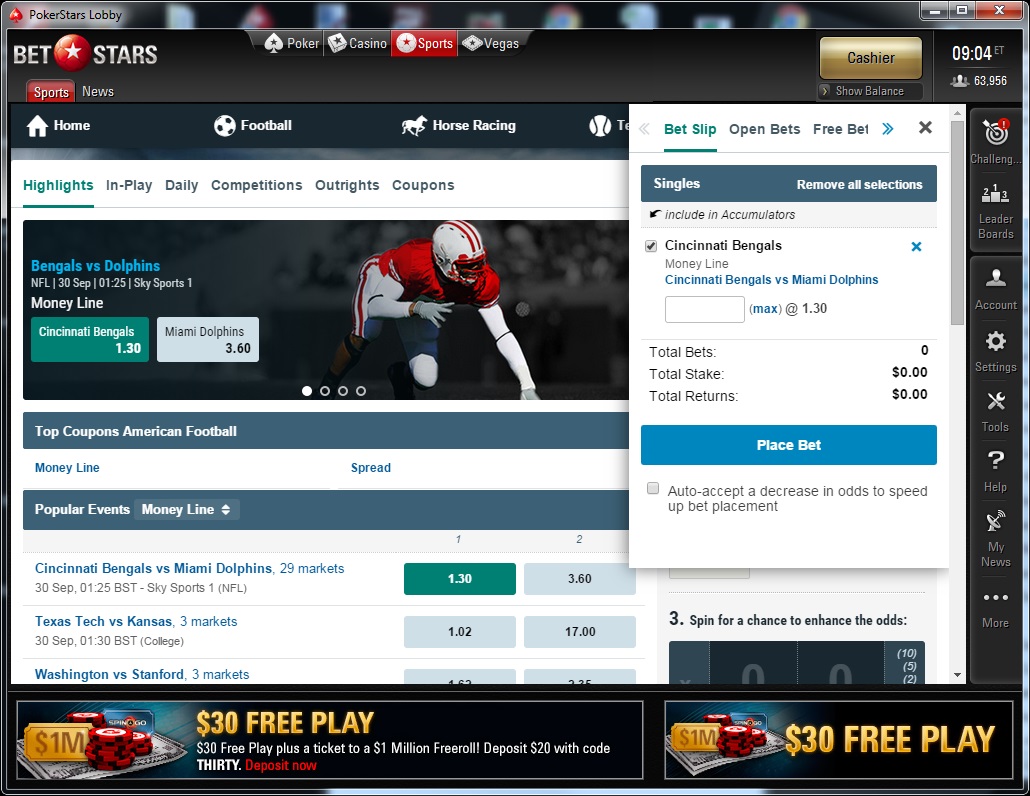 ONCHAN, Isle of Man – September 28, 2016 –
BetStars
is dramatically upgrading its US sports offering to include 348 new betting markets across American Football to include National Football League (NFL) and College Football (NCAA), and Major League Baseball (MLB). BetStars, an Amaya Inc. (Nasdaq: AYA; TSX: AYA) brand, launched the new NFL markets on the opening day of the season, ahead of the three regular season games being played in London in October. The expanded markets for college football and MLB will be available in the weeks to come.
BetStars is rolling out the U.S. sports markets as follows:
NFL pre-live: 66 markets (up from 22), including 'First Touchdown Scorer'
NFL in-play: 58 markets (up from 3), including 'Point Spread' for every quarter
NCAA pre-live: 30 markets (up from 5), including '1st Half Money Line'
NCAA in-play: 30 markets (up from 3), including 'Total Points' for every quarter
MLB pre-live: 81 markets (up from 11), including 'Winning Margin'
MLB in-play: 130 markets (up from 3), including '1st Inning Money Line'
Zeno Ossko, Managing Director for BetStars, said: "The globalisation of U.S. sports has seen considerable growth in the level of interest in American sports on this side of the Atlantic. The addition of these new U.S. markets is an exciting step forward in giving BetStars customers more chances to test their sports smarts, both before and during games."
Once again there will be three NFL regular season games played in the UK this year; one at Twickenham and two at Wembley – involving the Jacksonville Jaguars vs Indianapolis Colts (Oct 2), Los Angeles Rams vs New York Giants (Oct 23) and Cincinnati Bengals vs Washington Redskins (Oct 30).
BetStars customers will be able to bet on all 267 NFL regular season and playoff matches in-play this season, including Super Bowl LI in Houston, TX on Sunday, February 5, 2017. BetStars will also provide players with exciting promotions throughout the season.
For further information, please contact: press@betstars.com
About BetStars
BetStars is a new online sports betting brand from the Rational Group, who operate the world's largest online poker room, PokerStars. The sports betting service features a wide range of popular and specialist betting options, fantastic promotions, and exclusive new products.
BetStars offers players a seamless experience between sports betting, casino and poker, with a single wallet between all three services. BetStars is available online and on mobile and tablet, with dedicated iOS and Android apps for a quick and simple betting experience.
BetStars is ultimately owned by Amaya Inc. (Nasdaq: AYA; TSX: AYA).
Back to Brand News