WORLD SNOOKER CHAMPIONS PUT LEICESTER CITY FOOTBALL STARS TO THE TEST IN BETSTARS CHALLENGE
Foxes stars pitted against each other to find out who is king of the baize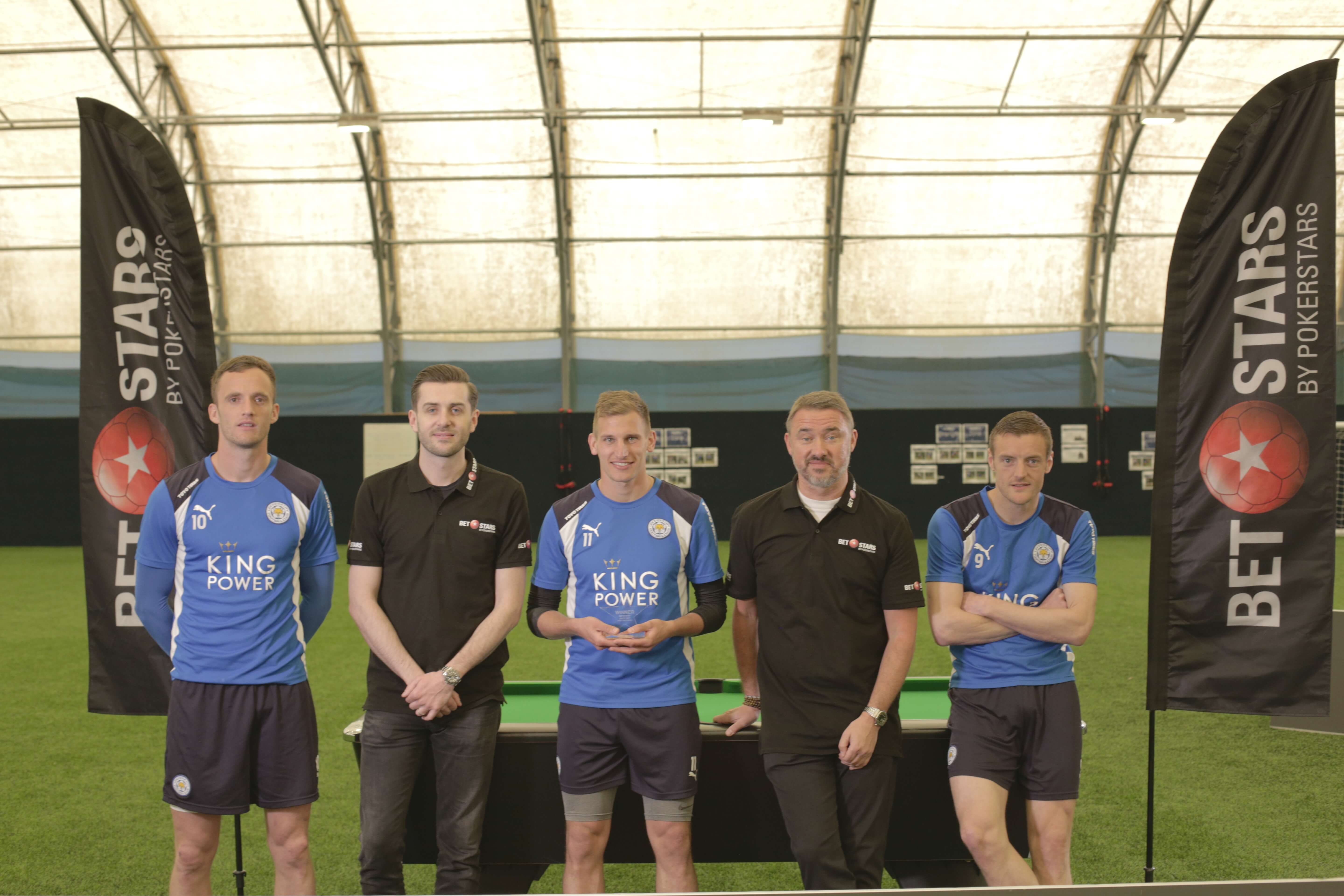 ONCHAN, Isle of Man - May 19, 2017 – Three members of Leicester City Football Club's 2015/16 Premier League title winning team have swapped their football boots for pool cues in the latest BetStars 'Face-Off' challenge for online betting site BetStars, an Amaya Inc. (Nasdaq: AYA; TSX: AYA) brand.
Jamie Vardy, Marc Albrighton and Andy King were joined by Foxes fan and reigning and three-time World Snooker Champion Mark Selby, and seven-time World Snooker Champion Stephen Hendry to take on a series of pool challenges to find out who was king of the baize.
Each player was given three attempts to take on a trio of different challenges – a test of straight cueing, a two-cushion pot and a tricky swerve shot. To watch the video go to BetStars social media channels here: http://bit.ly/2omtVpt
It was Vardy who fancied his chances at the start of the challenge, but despite the England striker's confidence, it was Albrighton who proved himself to be the real hot-shot, bagging two of his three attempts at the straight black with Vardy and King only managing one successful pot.
RIGHT ON CUE
King proved himself to be right on cue for the second challenge, successfully potting the black off two cushions on two of his three attempts, to set up a tense finish ahead of the third and final challenge.
The Welsh midfielder got himself into a spin when trying the swerve shot around the red, so with Vardy impressing the two snooker champions with his cueing ability after two successful pots, it was he and Albrighton that were put on the spot to battle it out in a tie-break game of pool. After potting a ball off his break-off shot, the winger went on to clear the table to score a resounding victory.
Albrighton's victory is his second in the BetStars 'Face-Off' series after he also claimed victory in the Team GB Hockey Challenge. He said: "It's an honour to win the BetStars Pool Challenge, as there was some really stiff competition. I think Jamie was pretty confident he had this in the bag, so this is definitely one for the underdog!"
Seven-time World Snooker champion Stephen Hendry was impressed with what he saw from the Foxes players: "There were some pretty tricky challenges today so I think the guys showed that they have plenty of ability on the pool table. Marc has clearly been honing his skills and proved himself to be the dark horse of the competition!"
VICTORY
Reigning World Snooker Champion Mark Selby also enjoyed meeting his Leicester City idols: "I'm a massive Foxes fan so it was great to come down to the training ground and see what the guys were made of. Congratulations to Marc, he fully deserved his victory!"
This is the fourth challenge in the BetStars Face-Off series. Leicester City legends Emile Heskey and Steve Walsh previously joined forces with Leicester Tigers' European Cup winning duo Tim Stimpson and Andy Goode for a special rugby kicking challenge, Leicester City players Shinji Okazaki and Christian Fuchs took on the ultimate football robot, and Danny Simpson, Marc Albrighton and Christian Fuchs swapped their football boots for hockey sticks to take on Team GB's gold medal winning hockey stars Maddie Hinch and Helen Richardson-Walsh.
Zeno Ossko, Managing Director of BetStars, added: "The 'Face-Off' challenge has already pitched the Leicester players up against a series of champions from hockey and rugby, so inviting famous Foxes fan and current World Snooker champion Mark Selby alongside Stephen Hendry was an obvious next choice. There's probably no one better to learn from and once again it was Marc who showed that he's a man of many sporting talents!"
To see more exclusive footage from the BetStars Face-Off series head to www.facebook.com/BetStars
For further information, please contact: press@betstars.com
About BetStars
BetStars is the online sports betting brand from the Rational Group, which operates the world's largest online poker room, PokerStars. The sports betting service features a wide range of popular and specialist betting options, fantastic promotions and exclusive new products.
BetStars offers players a seamless experience between sports betting, casino and poker, with a single wallet between all three services. BetStars is available online and on mobile and tablet, with dedicated iOS and Android apps for a quick and simple betting experience.
BetStars is ultimately owned by Amaya Inc. (Nasdaq: AYA; TSX: AYA).
Play Responsibly! For more information on responsible gaming please visit our website at https://www.betstars.com/responsible-gaming/
Back to Brand News