UK POSTMAN GETS 5,000- 1 ENHANCED ODDS FROM BETSTARS IF CHELSEA DELIVER PREMIER LEAGUE WIN
"Life-changing" £50,000 would buy house for postal worker Ben and partner Laura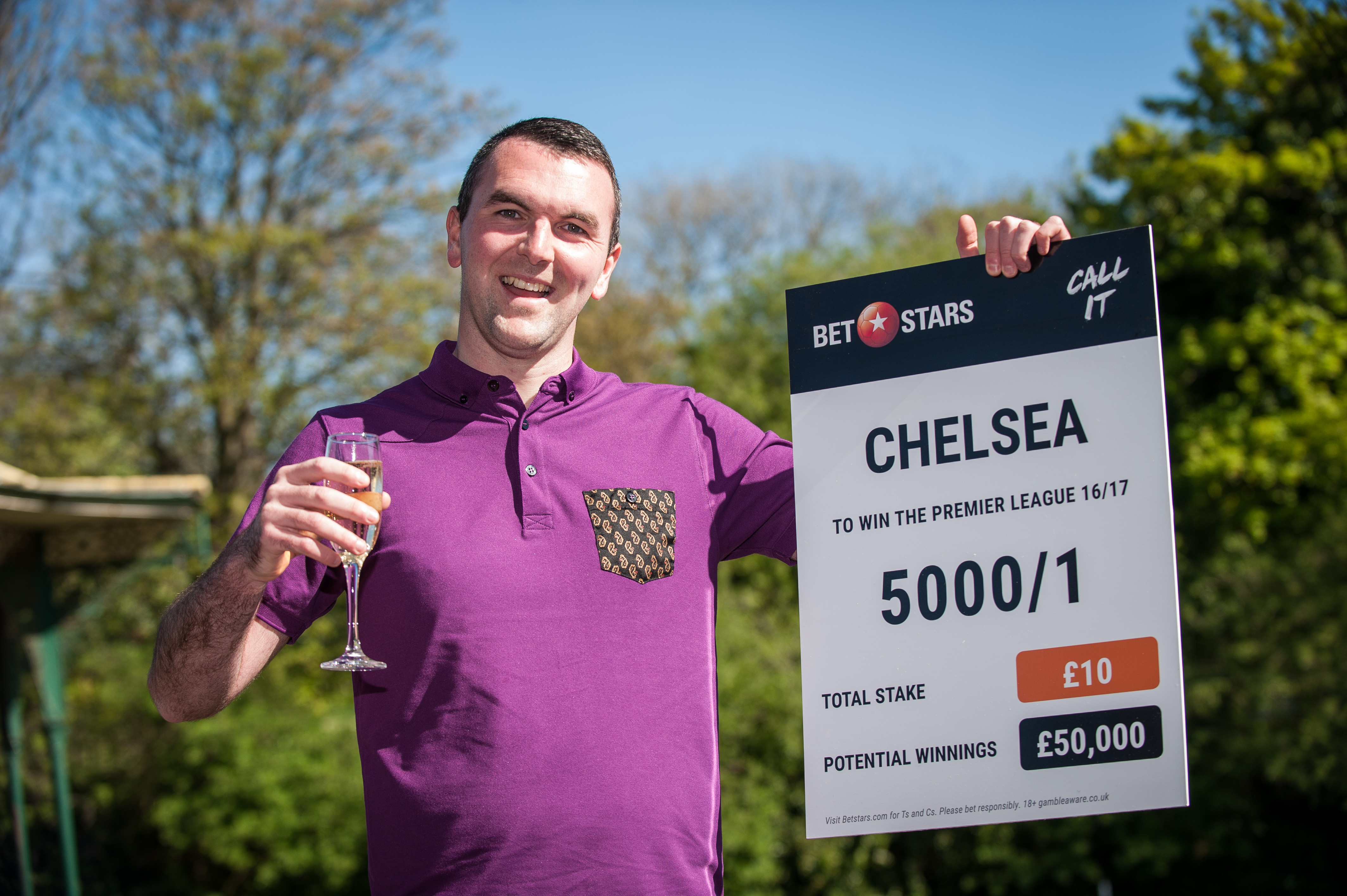 ONCHAN, Isle of Man – May 11, 2017 – UK postman Ben Scott, 26, of Roker, Sunderland, is set to win a "life-changing" £50,000 after online betting site BetStars, an Amaya Inc. (Nasdaq: AYA; TSX: AYA) brand, offered enhanced odds of 5,000-1 on his £10 bet for Chelsea to win the Premier League title.
"I was stunned when BetStars called me before the season to say my bet had been enhanced to 5,000-1," Ben said. "I'm a big Sunderland fan so it would be a massive silver lining for me after my team were relegated. This season, I've watched every single Chelsea match and all of Antonio Conte's press conferences. I've become pretty obsessed.
"If I win the money, I would buy a house. I work as a postman and my partner Laura is a nursery nurse, so it really would be a life-changing amount of money for us. The biggest win I've had before was a hundred or two, so I've been nervous all season."
The Sunderland fan posted the bet before the start of the season and received promotional odds of 5,000-1 from BetStars, the same odds Leicester City overcame to win the 2015-16 league title.
Ben's original bet of £10 for Chelsea to be champions was placed against 5-1 odds and would have won him £50. He now stands to score £50,000 if the Blues win the league.
Chelsea lead second-placed Tottenham Hotspur by seven points with three matches remaining and the Blues could secure the title as soon as tomorrow evening (May 12), if they win away against West Bromwich Albion.
"I backed Chelsea because I thought they would have an advantage with not being in Europe, as Leicester did last year when they won the title," Ben said. "On the final game, I'll be at Stamford Bridge in the Sunderland end as we play Chelsea. I will have to wait until I'm out of the stadium to celebrate!"
Zeno Ossko, Managing Director of BetStars, said: "Ben has proved his sport smarts are absolutely first class. He called Chelsea as Premier League champions before a ball was even kicked this season and has scored himself £50,000 in our 5,000-1 special offer!
"At BetStars, we celebrate those willing to make big calls. We're delighted to reward Ben and hope he enjoys his big win as much as Antonio Conte's side enjoy their title celebrations.
"As official bookmaker of Leicester City, we knew the Foxes' feat of winning the Premier League against 5,000-1 odds last year may never be repeated, so we wanted to give our customers another shot. Congratulations to our winner Ben."
For further information, please contact: press@betstars.com
About BetStars
BetStars is the online sports betting brand from the Rational Group, which operates the world's largest online poker room, PokerStars. The sports betting service features a wide range of popular and specialist betting options, fantastic promotions and exclusive new products.
BetStars offers players a seamless experience between sports betting, casino and poker, with a single wallet between all three services. BetStars is available online and on mobile and tablet, with dedicated iOS and Android apps for a quick and simple betting experience.
BetStars is ultimately owned by Amaya Inc. (Nasdaq: AYA; TSX: AYA).
Play Responsibly! For more information on responsible gaming please visit our website at https://www.betstars.com/responsible-gaming/
Back to Brand News