POSTMAN BEN WINS £50K WITH BETSTARS AS CHELSEA DELIVER PREMIER LEAGUE WIN
Ben received enhanced odds of 5,000-1 and "life-changing" sum will buy house for him and partner Laura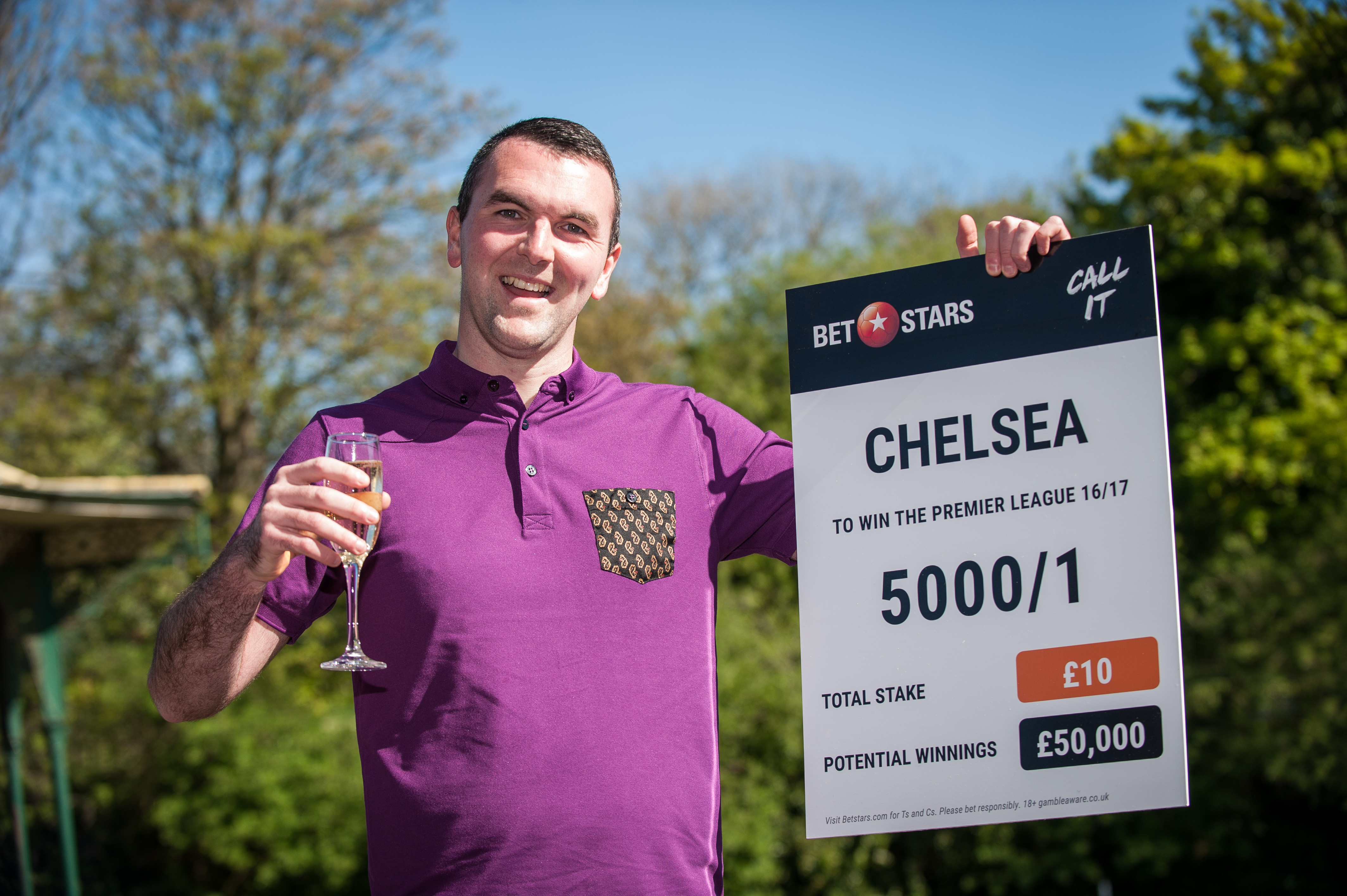 ONCHAN, Isle of Man – May 15, 2017 – UK postman Ben Scott, 26, of Roker, Sunderland, has won a "life-changing" £50,000 after odds on his £10 bet for Chelsea to win the Premier League title were enhanced to 5000-1 by online betting site BetStars, an Amaya Inc. (Nasdaq: AYA; TSX: AYA) brand.
"I can't really believe I've won £50,000 with BetStars," Ben said. "It hasn't sunk in at all yet. The first thing I plan to do is take my family for a nice meal. A steakhouse or something like that. Then we plan to buy a house."
The Sunderland fan said the huge prize will be a "life-changing" amount of money for him and his partner Laura, who is a nursery nurse.
Ben posted the bet before the start of the season and received promotional odds of 5,000-1 from BetStars, the same odds Leicester City overcame to win the 2015-16 league title. His original bet of £10 for Chelsea to be champions was placed against 5-1 odds and would have won him £50. He has now scored a whopping £50,000 thanks to the Blues winning the league on Friday (May 12) with a one nil victory against West Bromwich Albion.
WINNING MOMENT
"I watched the match where Chelsea won the league [against West Brom] at a casino with my girlfriend," Ben said. "I didn't think they were going to score and was quite nervous, but when I saw Michy Batshuayi was coming on, I thought he could be an unlikely hero. Obviously he got the goal that secured the title! I backed Chelsea because I thought they would have an advantage with not being in Europe, as Leicester did last year when they won the title."
The Sunderland fan said he became "pretty obsessed" with keeping up to date with Chelsea's play and has watched every single Chelsea match and all of Antonio Conte's press conferences.
Zeno Ossko, Managing Director of BetStars, said: "Congratulations to our winner Ben for scooping £50,000 in our special 5,000-1 special offer! At BetStars, we celebrate those willing to make big calls and we're delighted that this huge prize will make such a big difference to Ben and his family and will help him on the road to buying a house."
For further information, please contact: press@betstars.com
About BetStars
BetStars is the online sports betting brand from the Rational Group, which operates the world's largest online poker room, PokerStars. The sports betting service features a wide range of popular and specialist betting options, fantastic promotions and exclusive new products.
BetStars offers players a seamless experience between sports betting, casino and poker, with a single wallet between all three services. BetStars is available online and on mobile and tablet, with dedicated iOS and Android apps for a quick and simple betting experience.
BetStars is ultimately owned by Amaya Inc. (Nasdaq: AYA; TSX: AYA).
Play Responsibly! For more information on responsible gaming please visit our website at https://www.betstars.com/responsible-gaming/
Back to Brand News