POKERSTARS FESTIVAL MAKES DEBUT IN NEW JERSEY THIS AUTUMN
PokerStars Festival New Jersey will feature over 50 unique live gaming events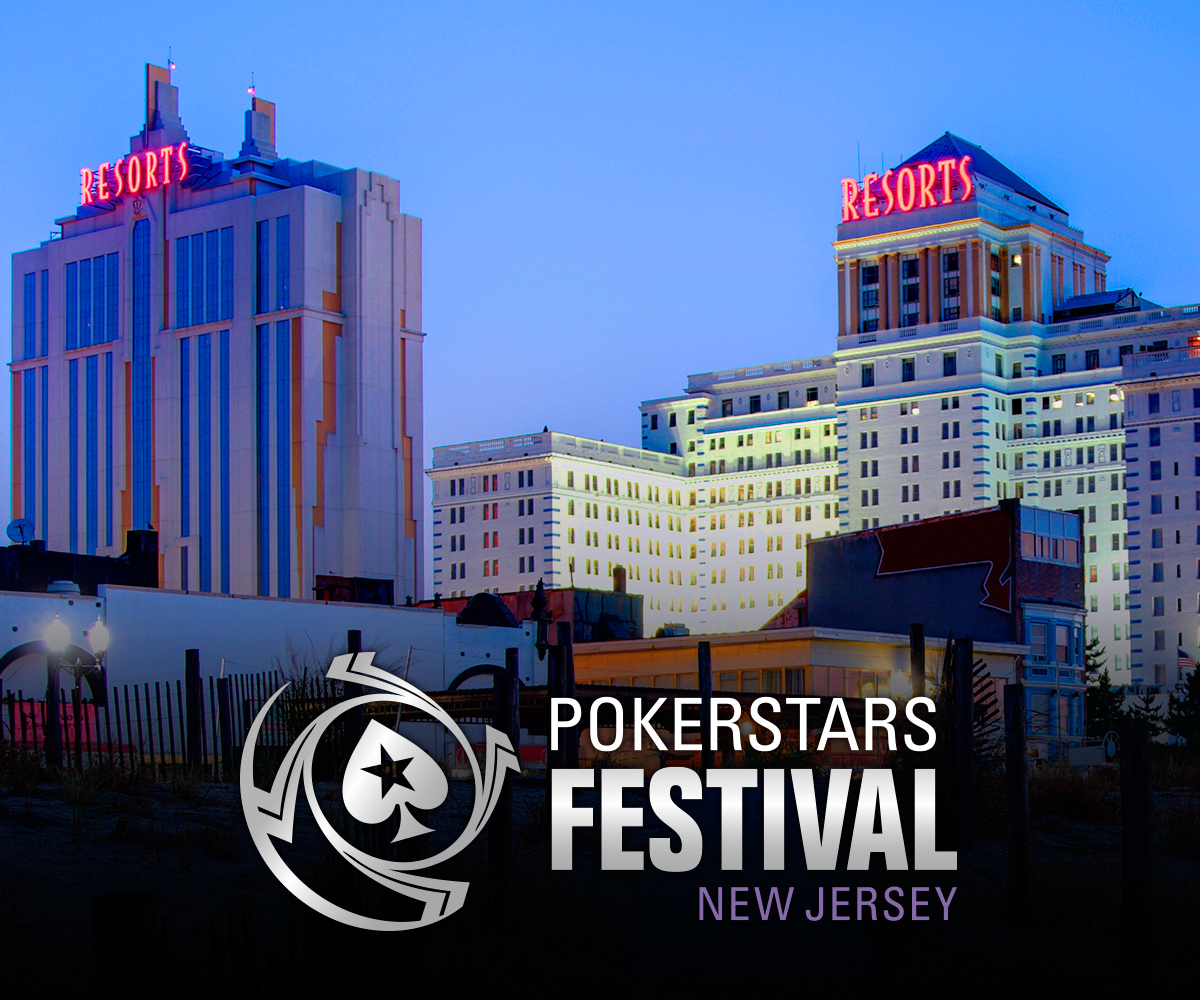 ATLANTIC CITY, New Jersey – October 3, 2016 – Atlantic City, New Jersey, will host the first-ever PokerStars Festival this autumn bringing a world class poker experience to Resorts Casino Hotel for poker enthusiasts and pros alike. The debut Festival will run from October 29 until November 6, and feature over 50 gaming events, sponsored by PokerStars, an Amaya Inc. (Nasdaq: AYA; TSX: AYA) brand.
New Jersey is the first stop of the new re-designed global live tours from the world's most popular online poker site. PokerStars Festival New Jersey kicks off hot on the heels of the New Jersey Championship of Online Poker (NJCOOP), a two-week online series taking place at PokerStarsNJ.com making New Jersey a hotbed of gaming action for over three weeks this autumn. PokerStars Championship will stop at the Atlantis Resort, Nassau in January for its debut.
PokerStars' Director of Live Events, Edgar Stuchly said: "We are thrilled to bring the first-ever PokerStars Festival to New Jersey. This will be the first live event we have sponsored in the United States since PokerStarsNJ.com launched in 2016 and we look forward to seeing everyone at PokerStars Festival New Jersey for an action-packed poker vacation at the Resorts Casino Hotel in Atlantic City from October 29 to November 6."
Mark Giannantonio, President and CEO of Resorts Casino Hotel said: "We are excited to host the first-ever PokerStars Festival, which is designed to deliver the best poker experience for players of all levels. This action-packed poker event will be an unforgettable gaming experience that is sure to impress guests from all over the world."
THE ULTIMATE GAMING EXPERIENCE
Players can experience the innovation and expertise that comes with a PokerStars-sponsored live event: new formats, the best-known professional players, packed schedules, high quality staff and a variety of ways to qualify. The PokerStars Festival New Jersey will also feature some exciting extras, headlined by a casino festival with daily jackpot prizes, special activities for VIP casino players and will include blackjack, video poker, slots and roulette tournaments.
Among Team PokerStars Pros attending will be Twitch poker sensation Jason Somerville, who will be headlining a special Run it Up event on November 5, which will feature a series of Run it Up themed mixed events, including a Dealer's Choice Stud Club event. Jason will also host a poker seminar and a Q&A session for fans. Some of Jason's poker-loving friends will also be in attendance, including reality TV stars Tyson Apostol and 'Boston Rob' Mariano of 'Survivor' fame.
Other Team PokerStars Pros set to compete in the PokerStars Festival New Jersey include Daniel Negreanu, Fatima Moreira De Melo, Barry Greenstein, Jason Mercier, Chris Moneymaker, Vanessa Selbst and Randy Lew.
For action away from the tables there will be a StarsFun skills zone from October 31 to November 4, which will involve five days of competition across non-poker related games, including miniature golf, arcade basketball and pinball, among others.
ONLINE ROUTE TO LIVE POKER AT ATLANTIC CITY
A wide range of satellites and qualifiers are running daily so everyone has a chance to win their way to the Main Event. To further celebrate the PokerStars Festival New Jersey, PokerStars is giving NJCOOP players the chance to win one of 20 PokerStars Festival New Jersey 2016 Main Event seats, each worth $1,100. All players who take part in five special NJCOOP events will receive a ticket to register to an All-in Shootout at 20:00 ET on the following day. Each of the five All-in Shootouts will award four $1,100 Main Event seats.
PokerStars is also giving players plenty of alternative chances to win their Main Event seat to the debut Festival from October 3-17 through various promotions including the PokerStars Festival All-in Shootout; where players complete a poker challenge or just make a deposit to be registered into an All-in Shootout on October 17 with 10 Main Event seats added; the PokerStars Festival New Jersey Freerolls running daily at 20:00 ET from October 3-8 and October 10-15 with 4 Main Event seats added in two Freeroll Finals; the PokerStars Festival New Jersey Mega Qualifier on October 9 with 20 Main Event seats guaranteed and the PokerStars Festival New Jersey VIP Bash on October 15 with 15 Main Event seats guaranteed. For further information on these promotions please see: http://psta.rs/2df7r4N.
KEY DATES
The PokerStars Festival New Jersey highlights will be as follows:
October 30-31, 2016, $340 PokerStars Cup

November 1-5, 2016, $1,100 PokerStars Festival Main Event

November 4-5, 2016, $2,200 PokerStars Festival High Roller

November 4-6, 2016, $230 PokerStars Open

October 31 - November 4, 2016, StarsFun Skills Zone

October 30 - November 6, 2016, StarsFun Casino Festival
For further details about PokerStars Festival New Jersey, please visit: http://psta.rs/2dAJB54.
About PokerStars New Jersey
PokerStars NJ is the locally operated version of the world's most popular online poker site, PokerStars. At PokerStarsNJ.com, players physically present in New Jersey can experience and enjoy the same world class gameplay, customer service, and game integrity that PokerStars has offered globally for almost 15 years.
PokerStars NJ operates in conjunction with its partner, Resorts Casino Hotel in Atlantic City, and offers both poker and casino games online at www.pokerstarsnj.com to players who are physically located in the state.
PokerStars NJ uses globally established age and location verification protections, player fund protection through account segregation, and responsible gaming practices to oversee and control player activity.
PokerStars NJ is ultimately owned by Amaya Inc. (Nasdaq: AYA; TSX: AYA). Amaya US Services Limited, a subsidiary of Amaya Inc., is an internet gaming operator of Resorts Digital Gaming LLC (d/b/a "Resorts"), which is authorized and regulated by the New Jersey Division of Gaming Enforcement.
About PokerStars Championship and Festival
The PokerStars Championship is the world's richest and most popular poker tour. Bringing together some of the world's most exciting and prestigious poker tournaments, the PokerStars Championship is the successor to the European Poker Tour, North American Poker Tour, Latin American Poker Tour, and Asia-Pacific Poker Tour. Collectively, these events have paid out well over $1 billion in tournament prize pools globally on five continents since 2004. In 2017, the PokerStars Championship will include events in Barcelona, Macau, Monte-Carlo, Panama and the Bahamas.
PokerStars Festival events are shorter live events days with a fun, holiday feel and a variety of events, mainly tailored for recreational players. Confirmed PokerStars Festival events so far are New Jersey and London, with more stops to be announced in the coming months.
The PokerStars Championship and PokerStars Festival are brands ultimately owned by Amaya Inc. (Nasdaq: AYA; TSX: AYA). Further information on the PokerStars Championship and PokerStars Festival is available online at http://www.pokerstarslive.com/.
About Resorts Casino Hotel
Resorts Casino Hotel brought gaming to Atlantic City in 1978. Resorts is at the top of its game today, offering world-class casino action in a relaxed environment that keeps the focus on fun. Resorts Casino Hotel made history as the first American casino outside of Nevada and celebrated its 35th anniversary in May 2013 with a new milestone: the opening of a $35-million Margaritaville casino and entertainment complex that includes, among other attractions, the only year-round beach bar on the Atlantic City sand.
Mohegan Gaming Advisors assumed management of Resorts Casino Hotel in autumn 2012 – a move that has set the stage for its return as the most exciting gaming destination in Atlantic City. Boasting a prime location spanning 11 acres at the northern end of the famed Atlantic City Boardwalk, the resort features 942 guest rooms and suites in two hotel towers, a 80,000 square-foot casino, two theaters, six restaurants, two VIP slot and table player lounges, a casino bar, indoor-outdoor swimming pool, health club and spa, salon, and retail shops. Its 64,000 square feet of technologically advanced meeting space includes 24 meeting and function rooms, most featuring natural light and ocean views, and a 13,000-square-foot ballroom. For more information, visit our website or call 1.800.334.6378. Connect with us on Facebook, follow us on Twitter or Instagram and view us on YouTube.
Back to Brand News